Hey everyone! I know there are many many things happening over weekends, but if you find yourself having no where to go this weekend, yes! that is tomorrow and the day after tomorrow, aka Saturday and Sunday, aka 30 June and 1 July… wahahahaha… ok… my point is, if you happen to be around Boat Quay on Saturday, drop by Mind Cafe at 68 Boat Quay and if you're around Clarke Quay/ Chinatown on Sunday, drop by China Square Central Flea Market!
WHY??
Cause I'll be there!! Wahahaha! So BHB right… haha. Well, apart from myself, many other people will be there lah. Sure got alot of things to see and if you have the monie, you can buy too!
Details as follows…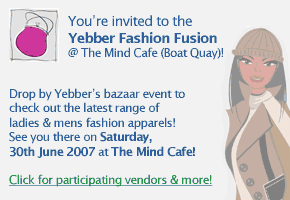 Click on banner above to visit Yebber website for more!
Felt In Love will be with Petalthots at Booth 208, on the 2 Level
As for China Square Central, well, if you don't know where it is, check out their website and the special promotion for Felt In Love is available at the online store.
Hope to see you there!
Psss… 4 more days! Have you got my pressies ready? *winks*