Technology is here to stay and we've seen many F&B places having some hi-tech stuff happening over the recent months. Here are five which we found and thought you might be keen to check them out too.
Ci Yuan Hawker Centre
The first is what I would call a new kind of hawker centre here in Singapore, where you'll spot giant fan, super clean environment, family (kids) friendly tables and technology integrated ordering and payment system at EVERY stalls!
Source: Punggol Babies
Sumiya at Suntec City
For sake lovers or those who want to try sake but don't know which one to order, you got to go check out Sumiya Charcoal Grill Izakaya at Suntec City. They have a cool technology integrated sake dispenser where you get to pick and dispense your own sake by different quantity and all sake are served chilled too. All the sake you've consumed is stored in their special Sakecard, and you just pay for it at end of your meal.
Vet from Miss Chocoholic visited the place and here's what she has to say.
McDonald's across Singapore
This is one of my personal favourite, just because I love their Create burgers a lot. You can now order your standard menu items from these self-service kiosk or you can create your personalised Create burgers too. Payment at these kiosk is also easier and faster, so you can skip the queue totally and wait for your food to be served.
FIVE Square and Bar at Pickering Street
With a variety of East to West cuisines housed in FIVE Square, you will get to enjoy value for money food for your everyday meals. Located in Pickering Street at Great Eastern Centre, this dining spot includes FIVE Square and FIV五 (Fivebar). The FIV五 (Fivebar) offers $5 specials everyday, which is modelled after the Japanese's 300-yen bars, while the FIVE Square includes five food stalls with tantalising treats for the people in the CBD area.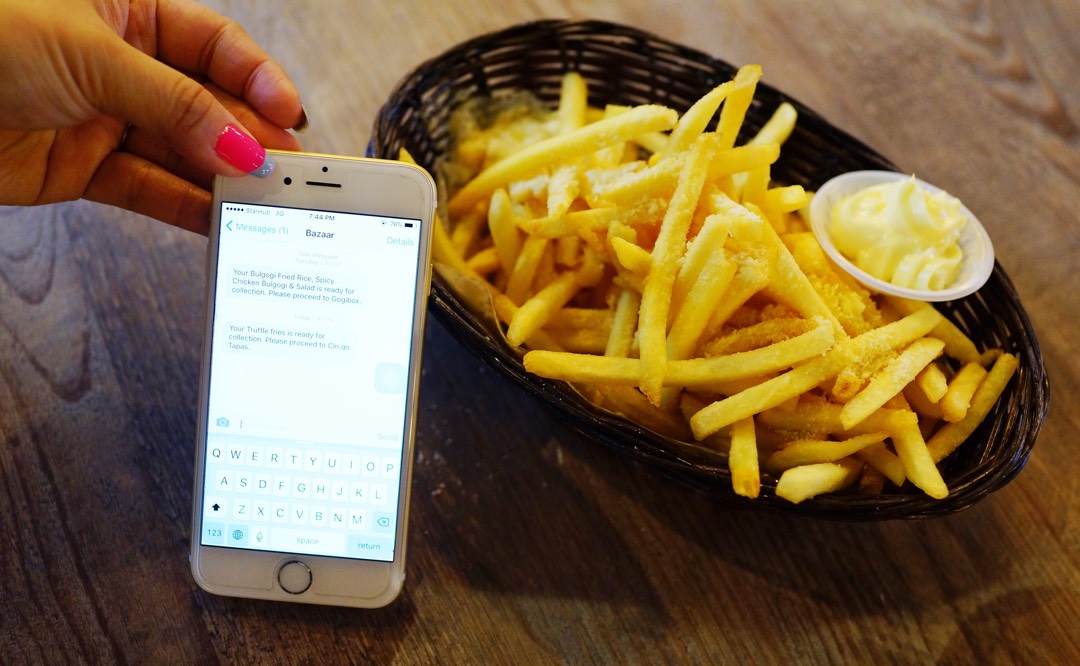 They've got self ordering and payment counter and you can also opt to receive your queue number via SMS. Check the experience shared at Lemon Film blog.
Tsukeru at Emporium Shokuhin
If Shabu Shabu is your thing, then go try dining with tech at Tsukeru at Marina Square. You get to choose from a range of Japanese and Asian broths, and enjoy it in your own individual hotpot with a wide selection of seafood and premium meats. Ordering as much as you want using their iPad minis so you don't have to keep calling for service staff to take your order. They also have specially concocted sauces for you to pair your Shabu-Shabu with for that extra oomph!

Source: Gninethree
Have you been to any of these dining places and try out their technology integrated solutions? Share your experience with us too in the comments below.